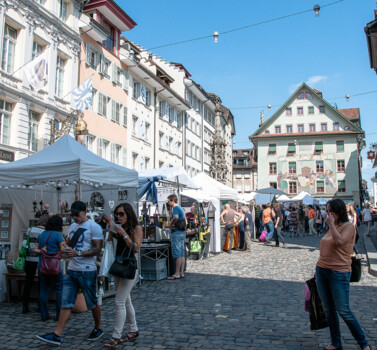 Market days 2021

Saturday, 8–17
Sundays and holidays, 10–18

April 3.
May 1. (handicraft live)
June 5.
July 3.
August 7.
September 4. (handicraft live)
October 9.
November 6.
Handicraft-markets in december 2021

Saturday, 4. december
08.00–17.00 Uhr

Mittwoch, 8. december (Immaculate Conception)
10.00–18.00 Uhr

Saturday, 11. december
08.00–17.00 Uhr

Sonntag, 12. december
10.00–18.00 Uhr

Saturday, 18. december
08.00–17.00 Uhr

Sonntag, 19. december
10.00–18.00 Uhr
Location

The handicraft-market takes place on the Winemarket in the old town of Lucerne.
Information for the market drivers
Covid-19 informations
Subject to further development of the corona situation a cancellation of the handicraft market is possible at short notice.

The canton of Lucerne has decided that from Saturday, October 16, 2020, market traders and customers will be required to wear a mask in all markets in the city of Lucerne.
By decision of the government of the Canton of Lucerne since October 16, 2020, all market traders and customers are required to wear a mask at all markets in the city of Lucerne.
The obligation of mask-wearing has to be put into practice by all market participants and visitors. This applies also to for the time of setting up and dismantling the market stalls.

The poster attached must be visibly hung up on the market stall.

All persons must be able to maintain a distance of 1.50 meters from one another at all times.

If it is not possible to maintain the distance in certain situations, appropriate markings / barriers must be attached.

This means, market visitors are directed to the stalls with suitable and sensible markings and if the rule of keeping distance is not possible, e.g. if distance cannot be maintained when queuing.

The floor marking for maintaining the distance is organized and carried out by the Lucerne Crafts Market Association.

The markings (signaling tape and spacer stickers) that are attached to the market stand must be removed and disposed of by the market traders themselves when the market closes.

Each operator is responsible that disinfectants are available for market visitors / customers at their stall. Stand operators are required to clean their hands with disinfectant after each contact with customers.

Surfaces must also be disinfected regularly with disinfectants. The use of disposable gloves is recommended (hygiene, depending on the range / product).
Products
Hand-crafted home-made products (exclusively non-food products.

Addresses for tents and tarpaulins
PRO-TENT AG, CH-8630 Rüti
Gardeko GmbH, CH-6025 Neudorf
CLARO Grosshandel, CH-8820 Wädenswil

The stand size is 2 x 2 meters. Market tents and canopies are only allowed with white / light blue tops.
Tariffs (as of January 2020 of Lucerne City)
Placement fees and electricity purchases are as follows due to the regulations governing the use of the public land:
Annual Place:
Stand fee (at least 9 participations): CHF 100.–
Electricity Annual stand space flat rate: CHF 120.– (excluding VAT)
Advertising contribution to the association of the handcraft-market: CHF 120.– (excl. VAT)
Processing fee: CHF 80.–
Temporary Participation:
Stand per day: CHF 30.–
Electricity per day: CHF 15.–* (excluding VAT)
Advertising fee per day: CHF 22.– (excl. VAT)
Processing fee: CHF 5.– per market day for temporary participants
*mandatory for December markets.