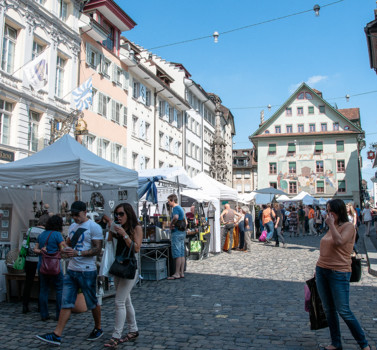 Market days 2019

Saturday, 08.00–16.00

April 6.
May 11. (handcraft live)
June 1.
July 6.
August 3.
September 7. (handcraft live)
October 5.
November 2.
Christmas Markets 2019

Saturday, 7./14./21. december
08.00–17.00

Sunday, 8./15./22. december
10.00–18.00
Location

The handcraft-market takes place on the Winemarket in the old town of Lucerne.
Information for the market drivers
Produkts
Hand-crafted home-made products (exclusively non-food products.

Addresses for tents and tarpaulins
PRO-TENT AG, CH-8630 Rüti
Gardeko GmbH, CH-6025 Neudorf
CLARO Grosshandel, CH-8820 Wädenswil

The stand size is 2 x 2 meters. Market tents and canopies are only allowed with white / light blue tops.
Tariffs (as of February 2019 of Lucerne City)
Placement fees and electricity purchases are as follows due to the regulations governing the use of the public land:
Annual Place:
Stand fee (at least 9 participations): CHF 100.–
Electricity Annual stand space flat rate: CHF 120.– (excluding VAT)
Advertising contribution to the association of the handcraft-market: CHF 120.– (excl. VAT)
Processing fee: CHF 80.–
Temporary Participation:
Stand per day: CHF 30.–
Electricity per day: CHF 15.–* (excluding VAT)
Advertising fee per day: CHF 22.– (excl. VAT)
Processing fee: CHF 5.– per market day for temporary participants
*mandatory for December markets.